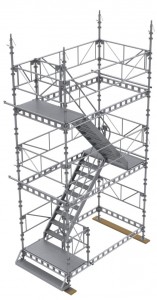 We are the largest aluminium scaffolding producer in north-west Poland.
Our scaffolding system is used in severe weather conditions north of Europe, where efficiency and safety takes first place.
Because of aluminium material – our scaffolding are not only corrosion resistant, but almost twice lighter than steel solutions. For that, products that we offer gives you durability, ease of use and safe and faster solution with assembly.
Time matters ! Download our scaffolding catalogue